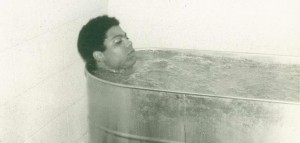 You may notice we changed our timeline photo. Like Dock relaxing in the steam bath after a tough outing, we are resting and reflecting on the success of our Kickstarter campaign, where – WITH YOUR HELP – we exceeded our goal earlier this week. Since I can't resist a baseball metaphor… 
We tossed the first pitch on June 12, the anniversary of Dock's infamous No No. The game was hard-fought and tight from the beginning, the outcome uncertain until the bottom of the ninth. We pitched our heart out, got great support from the team, and the enthusiastic crowd cheered us forward. In the end… WE GOT THE 'W'! And we have YOU to thank…
A few interesting tidbits:
During the campaign, we nearly DOUBLED the size of our Facebook group – up to 1061 friends and fans!
50% of the 8810 people who pressed PLAY on our trailer watched it ALL THE WAY THROUGH. For a 4+ minute video, that is amazing!
We became the most successful Austin-based Kickstarter project to date in the documentary film category.
Lots of people noticed what we're up to! Def Jam co-founder Russell Simmons tweeted his support; Flea from the Red Hot Chili Peppers backed us and encouraged others to do the same; and many other musicians, artists and athletes gave us a shout out.
The Kickstarter site will remain open indefinitely. Feel free to visit the site, catch up on updates, and show your friends the trailer. We will be migrating that content – and a bunch of our best photos and videos from here on Facebook – to our blog so that we may continue the long-form updates and share video clips and other behind-the-scenes content. Check it out! 
With sincerest thanks from the Director Jeffrey Radice and Producers Mike Blizzard and Chris Cortez… and in the words of Dock Ellis himself…
LET'S MAKE A MOVIE!