On May 1, 1974 Dock Ellis engaged in one of the most deliberate acts of headhunting in his career. In this case, he went hunting for Cincinnati Reds.

The boxscore for the game tells just part of the story. As with many tales from the annals of Dock Ellis, this one is overloaded with insights into the game of baseball, and the art of pitching & plunking — and also as usual with Dock, when we scratch beneath the surface the back story becomes just as fascinating as the incident itself.
In 1976 Donald Hall provided some background in Dock Ellis in the Country of Baseball:
Four days earlier, I had seen him at a party in Pittsburgh. I wandered around, talking to various people. Dock's attorney and friend Tom Reich was there, shaking his head in disapproval of a plan of Dock's. I met Dock in the kitchen fixing a drink. I asked him with some awe, "Are you really going to hit every Cincinnati ballplayer Wednesday night?"

He returned the awe. "How you know that?" he said.
In 2006 Bob Smizik of the Pittsburgh Post Gazette spoke with Dock, who elaborated that the seeds for this were sown at least as far back as 1974 spring training:
"They called our team dumb," said Ellis of the Reds. "I told Kurt Bevacqua in spring training I would drill all of them.

"Bevacqua said, 'I'll bet you a Chateaubriand.'

"I collected."
More from Donald Hall, quoting the reasons Dock gave for his plan:
"Cincinnati will bullshit with us and kick our ass and laugh at us. They're the only team that talk about us like a dog. Whenever we play that team, everybody socializes with them." In the past the roles had been reversed. "When they ran over to us, we knew they were afraid of us. When I saw our team doing it, right then I say, `We gonna get down. We gonna do the do. I'm going to hit these motherfuckers.' "
Donald Hall poetically described the game action: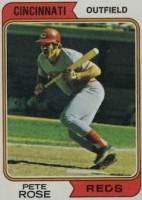 "The first pitch to Pete Rose was directly toward his head," as Dock expresses it, "not actually to hit him, " but as "the message, to let him know that he was going to get hit. More or less to press his lips. I knew if I could get close to the head that I could get them in the body. Because they're looking to protect their head, they'll give me the body." The next pitch was behind him. "The next one, I hit him in the side."

Pete Rose's response was even more devastating than Dock had anticipated. He smiled. Then he picked the ball up, where it had fallen beside him, and gently, underhanded, tossed it back to Dock. Then he lit for first as if trying out for the Olympics.

As Dock says, with huge approval, "You have to be good, to be a hot dog."


As Rose bent down to pick up the ball, he had exchanged a word with Joe Morgan who was batting next. […] Morgan taunted Rose, "He doesn't like you anyway. You're a white guy."

Dock hit Morgan in the kidneys with his first pitch.

"The next batter was Driessen. I threw a ball to him. High and inside. The next one, I hit him in the back."

[…]

Bases loaded, no outs. Tony Perez, Cincinnati first baseman, came to bat. He did not dig in. "There was no way I could hit him. He was running. The first one I threw behind him, over his head, up against the screen, but it came back off the glass, and they didn't advance. I threw behind him because he was backing up, but then he stepped in front of the ball. The next three pitches, he was running. . . . I walked him." A run came in. "The next hitter was Johnny Bench. I tried to deck him twice. I threw at his jaw, and he moved. I threw at the back of his head, and he moved."
Al Oliver told what happened next in his 1997 autobiography Baseball's Best Kept Secret:
Danny Murtaugh came to the mound. "Dock it looks like you don't have your good stuff tonight," Danny said.

I wanted to laugh. It took everything I had in me to suppress it. I'm sure Danny knew what was going on with Dock that night; he was no dummy. Knowing Murtaugh, he probably liked it, but he had to come out to the mound.




Manny Sanguillen –
The Reds said something in the paper, and Dock told me, "I'm going to knock everybody down." I just sat there and he threw the ball. He said, "No matter what you do, I'm going to throw the ball at them. No matter what you say, I'm going to throw at them." Dock didn't care.

When Danny came to the mound he asked, "Dock, what happened?"

Dock told him, "Nothing's wrong chief," and Murtaugh asked him for the ball. Danny liked these kind of players. Fighters. You want to be on a club that's strong. That has respect.
Joe Posnanski summed up Dock's efforts in a 2009 blog post:
Did the mowdown serve its purpose? Hard to say. The Pirates continued to play uninspired ball well into August — they still had a losing record on August 11th. But the division was so even that they were only 2 1/2 games back at the time. And they won 31 of their last 47 games to win the division title. They lost to the Dodgers in the NLCS.
---
Dock shares the record for most hit batsmen in a single inning at three — with a whole slew of other pitchers. However, not only is he not the only NL pitcher with three hit batsmen in the first inning (Candiotti, Hawley, Weaver), he's not the only Bucco pitcher with that distinction (Deacon Phillippe in 1905).
Dock does stand alone with the dubious record for most consecutive hit batsmen (with three) in that game, and according to the Plunk Everyone blog, Dock is "the only post-1960 pitcher to hit 3 batters without recording an out".
Mark Ecko's complex.com voted this incident baseball's number one greatest retaliation.