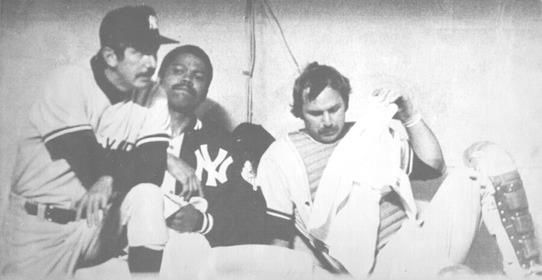 Dock Ellis once said that he only had two catchers in the show, Manny and Thurman. It's not precisely true, but it is in the sense that those two were the only catchers he trusted enough as a pitcher to let them call his pitches.
In honor of Thurman Munson's birthday, I want to share a beautiful story. The linked story is LONG. Shove your TLDR; I guarantee that it will be the best thing of its length you will read this week, perhaps this month, maybe even this year. I've read it dozens of times and it still brings a tear to my eye. It speaks to all that is great and poetic about baseball and life, as Donald Hall called it, fathers playing catch with sons.
As a child in upstate New York, my team was the Yankees. I grew up with the constant chatter of Rizzuto on WPIX in the background. Death was foreign at that age, though I still remember the day that Elvis died just as I remember the day that Thurman died. It could be yesterday, the little league practice when we all discussed his plane crash. It's washed over with a lifetime of memories yet still tugs at my heartstrings.
"Trust me, he said, and the last great brawling sports team in America did. Twenty years after Thurman Munson's death, Reggie, Catfish, Goose, Gator, the Boss—and a nation of former boys—still aren't over it."
The House That Thurman Munson Built
By Michael Paterniti
Esquire
September 1999